The COVID-19 pandemic, caused by SARS-CoV-2, is of a scale not seen since the 1918 influenza pandemic. Although the predominant clinical presentation is with respiratory disease, neurological manifestations are being recognised increasingly. This webinar, held on 1 May 2020, reviewed what's known about neurological manifestations of SARS CoV-2 and related coronaviruses, consider the disease mechanisms and outline a framework for future investigative studies.
Chair: Prof Tom Solomon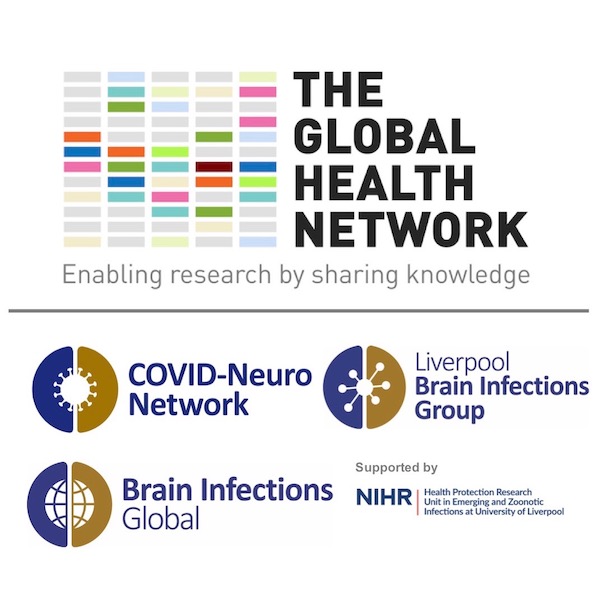 Prof Leonardo Pantoni: On being a neurologist in Italy at the time of the COVID-19 outbreak
Dr Laura Benjamin: The emerging layers of complexity in managing stroke patients with SARS-CoV-2 infection
Dr Avindra Nath: Disease mechanism of COVID-19 in neurological patients
Prof Tom Solomon is Director of the National Institute for Health Research Health Protection Research Unit in Emerging and Zoonotic Infections, head of the Brain Infections Group, Professor of Neurological Science, and Honorary Consultant Neurologist, Walton Centre NHS Foundation Trust and Royal Liverpool University Hospital. He studied medicine at Wadham College, Oxford, before undertaking a PhD on central nervous system infections in Vietnam, with a Wellcome Trust Advanced Training Fellowship. He then became a Clinical Lecturer in Neurology, Medical Microbiology and Tropical Medicine at the University of Liverpool,and was awarded a Wellcome Trust Career Development Fellowship. This included two years as a visiting scientist at the University of Texas Medical Branch, Galveston, Texas. He was made a Senior Lecturer in Neurology in Liverpool in 2005, and awarded a Medical Research Council Senior Clinical Fellowship the same year. He became Chair of Neurological Science in 2007, and was Director of the newly formed Institute of Infection and Global Health in 2010-2017. His research focuses on emerging infections, particularly those that affect the brain. He heads the Liverpool Brain Infections Group, which works to reduce the burden of neurological disease in the United Kingdom and globally, through research, training and capacity building, and public engagement.
Dr Laura Benjamin is a Senior Clinical Fellow at The Stroke Research Centre, University College London's (UCL) Queen Square, Institute of Neurology. She trained as a neurology physician at the Walton Centre (Liverpool) and The National Hospital for Neurology and Neurosurgery (London). She obtained a PhD at The University of Liverpool with the Brain Infections Group, where she examined the epidemiology of HIV infection and stroke in Malawi. Her most recent work is focused around the mechanisms of HIV-Stroke, where she is developing a translational pathway, from understanding the cellular biology between HIV infection and the vascular endothelium in an in-vitro model, to developing a HIV clinical cohort phenotyped for cardiovascular disease. She's the co-Principal investigator of a longitudinal cohort of HIV positive patients (800+) starting anti-retroviral therapy in Malawi, and she is leading the set-up of a multidisciplinary-driven project between UK partners and Malawi partners in setting up Malawi's first stroke unit. The group aspires to provide evidence-based, resource sensitive stroke care to poor populations.
Prof Leonardo Pantoni is Professor in Neurology at the Department of Biomedical and Clinical Sciences "L. Sacco", University of Milan, Italy. He has vast experience in managing (emergency) patients with neurological pathologies such as stroke, cerebrovascular disease, dementia, degenerative brain disease, headache and others. He is a board member, councillor and director on various national and international societies, and has been involved in developing guidelines on vascular cognitive impairment, dementia, brain imaging, stroke and others. His research focuses on stroke and he was also Deputy Coordinator of the European Union funded Leukoaraiosis and Disability Study (LADIS).
Dr Avindra Nath received his MD degree from Christian Medical College in India in 1981 and completed a residency in Neurology from University of Texas Health Science Center in Houston, followed by a fellowship in Multiple Sclerosis and Neurovirology at the same institution and then a fellowship in Neuro-AIDS at NINDS. He held faculty positions at the University of Manitoba (1990-97) and the University of Kentucky (1997-02). In 2002, he joined Johns Hopkins University as Professor of Neurology and Director of the Division of Neuroimmunology and Neurological Infections. He joined NIH in 2011 as the Clinical Director of NINDS, the Director of the Translational Neuroscience Center and Chief of the Section of Infections of the Nervous System. His research focuses on understanding the pathophysiology of retroviral infections of the nervous system and the development of new diagnostic and therapeutic approaches for these diseases.